April 2008
15 Results Found
Tuesday, 29th April 2008 14:24 |
14 Comments
I've just read over at
Some Boys! Blog
that Mutou Mika will be graduating not only from
Ongaku Gatas
but from
H!P
, so that she can concentrate on her education. I was going to write how things aren't looking good on the Ongaku Gatas front but I don't think they're looking as bad as they seem, admittedly it's been nearly 5 months since their last single release but it's not like they've been that quiet, in the time since their last single with had an album, a concert tour and a soon to be released concert DVD, there's also a weekly 30 minute radio show
Ongaku Gatas no Guts10☆Gatas
on CBC Radio which I wasn't aware of until now. So although the unit has taken some hits I'd like to think that they're far from over.
Although losing out on Mucchi is bad, I think the real blow to the unit was the departure of Manoeri, right from the very first time I watched the PV for
Narihajimeta Koi no BELL
my attention was drawn to her, she's an amazingly cute girl with a voice to match. But a unit like Ongaku Gatas, much like
Morning Musume
, is more than just one or two girls, you only need to look at the still amazing line up within the unit to see that they still have so much potential, the veteran members of H!P within the unit all do an amazing job and just seeing the likes of
Konkon
,
Satoda
and
Yossie
active within a unit is something by itself that I really enjoy. Arguably with the loss of the Eggs the unit may be losing some of it's punch as I think one of the reasons why I liked the unit so much to begin with was all the new talent that I hadn't seen before, the WOW factor of seeing a group of girls from a side of H!P that up until then I had brushed aside and regarded as an annoyance within concerts.
Moving away from Ongaku Gatas but sticking to Mutou graduating, I would love to know if her education or want for a normal life is the real reasoning behind her graduation. Much like all the similar graduations within H!P I'm always a little dubious. Now I may be totally wrong here and she may have genuinely decided to concentrate on her studies, but it just seems odd that you would leave a job that has so much potential, to go and...study. Now I know people have different dreams with what they want to do with their lives and over time these dreams can change (and in some cases these dreams aren't your own and are forced upon you by others), I guess being a member of H!P can't be as fun and as glamorous as it looks, the pressure that is put on any that join must be immense; the work hours, restrictions on your social life and how often they actually see their family all take it's toll. The thing I think I'm forgetting is the girls generally aren't 'adults', they are just that, girls in their teens, and mixing work with study can't be a good thing.
Obviously the views of fans on a particular idol will inturn influence their career, Manoeri is a great example of this, but I wonder if perhaps Mutou has experienced something similar but in an opposite direction. I've read numerous comments about people not liking how she looks and I would imagine that if it's being said in our corner of the H!P world then it must surely be echoed over in Japan? I wonder if perhaps a lack of sales in her merchandise or a lack of building up of a substantial fan base could have caused this outcome?
TAGS [
H!P Eggs
Ongaku Gatas
]
Posted Tuesday, 29th April 2008 14:24 | 3877 Reads | 0 Tweet Count |
Leave a Comment
Monday, 28th April 2008 00:21 |
41 Comments
It feels like such a long time since I bought a copy of CDData and on looking through the posts on the blog that feeling is correct, the last issue I purchased was August 2007 (
CD Data August 2007
) in it featured Reina's 14th Tanakamesen flicking through this issue we can see she's now on her 23rd, I must get back in to the swing of popping into the Japan centre on a more frequent basis as I've not only fallen behind on CDData but also on Friday magazine.
This issue has an article on
C-ute
and
Reina's Tanakamesen
, and although
Shohei
has returned to Japan and is busy at the moment he still managed to translate the articles, he has my thanks...I just hope it didn't ruin his Sunday evening. C-ute's article touches briefly on how the girls feel about their latest single, whilst Reina's is about the colour blue (because of Resonant Blue) and an extremely brief comment about
Onegai My Melody, Kirara
. Lol, who needs a page full of writing with Reina in that outfit!!
C-ute
Tune, Lyrics, Costume and Dance Routine, everything is so mature.
"Namida no Iro", the Spanish taste Second Single of 2008, the lyrics are mature for Cute, who are all teenagers. But they used more of their imagination than ever.
"3rd Love Escalation" was released in March, and it was a top ten hit.
Umeda said "Thanks a lot, we've had letters from fans and friends, and this time everyone is saying 'I really enjoyed it' or 'it really cheers me up' I am pleased" and this one is passionate Spanish taste!
Okai said "When I listened to it I felt it was really adult-ish, this is a bit like "Tokaikko Jyunjo"(3rd single) we can show the Cool side of Cute."
Nakajima said "Everything is so mature, I especially found the dancing hard, it took such a long time to remember it all."
The melody is intense and passionate, but the lyrics are about a liking a guy but saying farewell to him.
Suzuki said "The lyrics are so difficult for me, for instance 'I will forgive if it is just fun.' or 'I cant forgive you when you hurt my pride.' I don't really get the meaning of these, but I can understand that she still likes him and even though she tries not to."
They thought about the lyrics a lot. Yajima said "Will I every understand them someday? I can not imagine what happened to her, it may be the first time to think like that. Our lyrics are not connected to our experiences, so we imagined a lot of things from the lyrics (laughs)"
'Darling I Love You' is a little bit of a punkish and cheeky love song.
Arihara said "It is like I just shout "I love you" rather than singing it with a lot of emotion, I recommend you should listen to it on the bus!"
Ogiwara said "This one is the Cute version, in the Berrys Koubou version the lyrics of the second verse are different, Berryz version is more matured, whilst the Cute version is more childish."
Tanakamesen
Hello everybody!
How are you? Spring has come, and life has started again, such as school, job etc. (these kind of things start from April in Japan)
I've also had the challenge of being a voice actress from April! My Part is Kirara-chan in 'Onegai My Melody, Kirara'. It will broadcast every Sunday at 9:30 in the morning. I really enjoy it! It was the first time and I was really tense!
The theme of this essay is "Blue" because.... we will release "Resonant Blue" on the 16th April!
It is just like that (laugh) the thing Ao mori (ao means blue in Japan, and Aomori is the city, north part) It reminds me of an Apple! And being very cold! How about Blue sky? I imagine the summer's sunshine and clear blue sky. Feeling blue, when I am about to go out, the heavy rain is coming out!
Now about the new tune 'Resonant Blue' I like it, I think its very cool. The PV is great as well. I show the clothes worn (right) it isn't the blue outfit though....
TAGS [
C-ute
CD Data
Reina
]
Posted Monday, 28th April 2008 00:21 | 4112 Reads | 0 Tweet Count |
Leave a Comment
Thursday, 24th April 2008 17:54 |
61 Comments
It's been quite awhile since the latest issue of
Up to Boy
magazine, it was taking so long for the next issue to come out that I'd started to think that perhaps we'd seen the last of it, so much so that yesterday I got myself in a panic when I clicked on the Up to Boy link within the links section of this site and found that the page had gone!! Luckily the page had just been renamed and upon refreshing with the correct URL up came some images of the new (and improved?) magazine. I was really relived to see that the new issue has finally come out as this is currently my favorite magazine that I buy, I need my every other month dose of PB previews! In a state of excitement I jumped on the train down to the Japan Center to see if they had any issues in stock, which they didn't, but it wasn't a wasted journey as I finally got around to placing a subscription for it, coming in at £88 for a years subscription it works out a little pricey but it's not like the price normally deters me from buying it and at least this way I know that I won't miss a copy. From what the girl behind the counter was saying the latest issue should be in on Wednesday. And just by going by the preview of the cover it looks that the redesign has been worth it, the new logo looks great, I'm hoping this will continue into the contents of the magazine.
It's been sometime since I bought any of my regular magazine from the Japan Center, so whilst I was there I also managed the get copies of the latest issues of
Friday
,
CDData
and
Kandai
, all of which feature articles on H!P. Friday has a two page article on
Aibon
's return, I'm quite surprised that I haven't seen or heard of this article sooner as I would have thought that an article about Aibon within Friday would have attracted some attention. CDData has the usual Tanakamesen plus an article on the latest
C-ute
single. Finally Kindai has 9 pages of H!P goodness featuring
Morning Musume
,
Milky Way
and
Cutie House Vol.7
with
Chisato
. I'm going to leave posting the articles up for the minute as I've sent the scans off to Shoehi in the hope that he'll be able to translate them for me, fingers crossed he'll have a chance soon to look over them but as he's really busy at the moment I may post the articles without any translations, we'll wait and see.
TAGS [
CD Data
Friday
Kindai
Up to Boy
]
Posted Thursday, 24th April 2008 17:54 | 9526 Reads | 0 Tweet Count |
Leave a Comment
Wednesday, 23rd April 2008 07:21 |
23 Comments
If the
Morning Musume Visual Screens
weren't enough to make you part with your cash, Ohta has the latest
Berryz
and
C-ute
merchandise in from there current
Nakayoshi Battle Concert 2008 Spring Tour
.
The amount of merchandise for this tour is amazing and although Ohta's doesn't have all the merchandise available from the tour there's an impressive 45 pieces to chose from. I'm actually really surprised with the amount available, there's joint merchandise, merchandise from each unit and then individual member merchandise, I really wasn't expecting the individual member t-shirts for this I was thinking that there would be three or four variations in shirt, a tour shirt, a joint Berryz/C-ute shirt and then one for each unit but instead we're treated to one for each member along with a regular tour shirt. Interestingly the shirts follow a different style to the usual and instead of the shirt being the appropriate members colour it's the actual print on the shirt that is this colour. I really love this idea and it means we get a shirt colour that I haven't seen in ages, white. I was planning on trying to save myself some money this month but there's no way I can pass on these shirts and later in the day I'll be placing orders for both
Momo
's and
Erika
's. I've also included two photos after the merchandise shots of some pictures I found on Yahoo Auctions of the shirts, I hate how the H!P site uses really low quality images as you can never really tell what a design looks like, these will give you a better idea of what they look like.
There's also the usual photos, DVDs, Visual Books and towels. The DVDs come in three flavours, a joint one and then a version for each unit, so much to choose from! I think the towels are also worth a mention as some of the photos on them are great my two favourite being
Chinami
and
Nakki
. I've noticed lately that I'm really turning into a big Nakki fan, she's so cute...and as the photo on the towel shows, has amazing legs.
You can find all the items below at
Ohta's eBay Store
.
TAGS [
Berryz
C-ute
Ohta
]
Posted Wednesday, 23rd April 2008 07:21 | 3963 Reads | 0 Tweet Count |
Leave a Comment
Tuesday, 22nd April 2008 17:11 |
149 Comments
Following on from the
Berryz Koubou Visual Screens
(
Berryz Visual Screen and Oijigi 30° Merchandise
) Ohta now has some more visual screens in his
store
, this time it's
Morning Musume
's turn. Coming in at the same size as the earlier Berryz ones, it means that these are probably near enough life size images of each of the members, I wonder if anyone has enough room to get all nine and hang them up?...I think the real question that needs to be asked, I wonder if anyone has the cash to get all nine!? A complete set coming in at £346 ($693) it's going to make a massive dent in your wallet.
When compared to the recent Berryz versions I can't help but feel a little disappointed by these, the Dschinghis Khan outfits worn on their versions are really cute and help the items stand out, the outfits worn here are from the regular version of the
Resonant Blue
PV, personally I'm not that keen on the outfits, only
Mittsi
and
Linlin
managing to look good. I can't help but feel that perhaps an outfit featured in one of the other versions of the PV would have looked better? If versions from the Dance Lesson Version of the PV were available I'd probably end up getting a couple,
Gakisan
in her green tracksuit and Sayu preferably with her hood up and the little pink ears standing up (it would be too cute!). I'm hoping
C-ute
will also be releasing some of these, my fingers are crossed that they will feature the outfits worn in the Namida no Iro PV, they'd be no way I could pass on getting a
Nakki
one if they did.
TAGS [
Morning Musume
Ohta
]
Posted Tuesday, 22nd April 2008 17:11 | 19717 Reads | 0 Tweet Count |
Leave a Comment
Sunday, 20th April 2008 14:52 |
24 Comments
As I've mentioned in the past my family isn't the most open minded when it comes to foreign media, anything not in English generally isn't watched or listened too, there's the odd exceptions and that's mainly Spanish music and martial arts films, but even they aren't a common occurrence. I still fail to understand the majority of the native English speaking people (at least within the UK), if the rest of the world has no problem listening and watching foreign music and films how come we class anything not in English as rubbish and not worth giving a chance, I guess we're spoilt because of the language we speak, we seem to regard our music and films as the best in the world.
Out of everyone in my family it would have to be my mum whom I'm able to put the pressure on the most to experiment with foreign films and music. Admittedly I've never been successful and with films no matter how amazing they are or from what country they're from you can guarantee that within minutes of them being on she'll be asking if we can turn it off and watch Property Ladder (or equivalent program) instead. Although I know she doesn't enjoy these films I will always try to make her watch them, in a sense it sounds like I'm being quite a bully in forcing these films upon her, but much like when I was younger and she force fed me my vegetables I'm doing much the same and I stand by the excuse used on me at the time, "it's for your own good", my mum is such a large film fan that I feel bad that she's limited to just English speaking films.
Friday I got a call from Chris telling me that the Carphone Warehouse had dropped their iPhones by £100 meaning that an 8gb model was priced at a very reasonable £160 as they're sold without contract there was no being tied down to any extra costs, we'd been talking about developing an application on the iPhone for awhile now and this was our opportunity to grab a couple and save some cash at the same time...which reminds if anyone has any ideas for an iPhone H!P app let me know as I'd love to try and write one, I'm just a bit stuck for ideas at the moment. Anyway having ended up spending the majority of the night round Chris's playing with our new toys (unfortunately the plan of dinner with Kat was cut short as she wasn't feeling too well) I discovered one stupid flaw with the iPhone they don't except regular earphones! What is that about?
So, Saturday I woke up early, cleaned the car out and offered to give my mum a lift to the local shopping centre whilst tagging along, a few cups of tea and being dragged around clothes shop later (I felt like I was 12 again, lol) I managed to grab an adapter to let me use regular ear phones. We headed back to the car and the urge to test everything out was too much, I posed the question "Do you mind listening to my music or do you want to listen to the radio?" I was answered with "I don't mind", which meant on came H!P.
Seeing as how I didn't want to switch back to the radio after one song I decided to be a strategic with my choice of album to put on, I went with
Ayaya's Naked Songs
, less upbeat lively pop and more relaxed jazz, this is something that if it was sung in English I could imagine that she would listen to. As I put it on I jokinly said "The plus side with listening to this is that you can't make up to the words to the songs", my mum has this habit of singing along to songs that she likes but 9/10 times she doesn't actually know the words. So with the music on we leave the car park and already I can see in the corner of my eye I can see her fingers tapping, the finger tapping slowly turns into humming...this is a good sign! Three songs in she turns to me and says "This music is OK but how do you know what they are saying?", do my ears deceive me or was that a recognition that she likes the music?! I quickly skip a few songs and put on Ayaya's version of
Don't Know Why
which went down very well and even got a few attempts of singing along with.
Although this was only a slight acknowledgement of liking an album, "OK" isn't the best review of an album that I've heard but for me this is quite a big moment and blogworthy, I doubt I'll be lending my copy of the album out any time soon but it would seem that there's no one Ayaya can't bring around to being a fan. Now all I need to do is trap the rest of my family in a locked car and play them H!P until they cave in.
TAGS [
Ayaya
Stuff
]
Posted Sunday, 20th April 2008 14:52 | 4594 Reads | 0 Tweet Count |
Leave a Comment
Thursday, 17th April 2008 17:13 |
61 Comments
I've only just realised whilst looking at my
YesAsia
order that next week there are three singles being released;
C-ute
with
Namida no Iro
,
Nanni mo Iwazu ni I LOVE YOU
the last single release from
V-u-den
and
Mikitty
's return solo single
Okitegami
.
So although I was thinking that the main battle for Mikitty was to outsell
Horiuchi Takao
, it would seem that he's the least of her concerns. This is the first time I've ever noticed this many single releases coming out on the same day and now that I've noticed it, it's something I find a little strange but am very very excited about it mainly because the three releases each have their own reason for doing well in the charts.
V-u-den
lack of a Top 10 charting in the last three years is something that I've always thought as a little tragic, personally I love V-u-den with them coming in as my second favourite group after Morning Musume within H!P (it looks like C-ute will be replacing them now) it would be an amazing thing for them to leave on such a high note charting higher in the charts than they have done in a long while.
Then there's Mikitty, although the song wasn't what I was expecting it's still a really nice song and one that I imagine would be good to listen to on one of them days with the sun shinning through your window and the breeze blowing in. I'm still very curious as to how she'll sell against Takao, but having realised that these releases are coming out it seems less exciting. Now that I think about the situation of Mikitty's return I find her positioning a little unfair when competing with Takao, I'm still unsure as to what his usual sales figures are but I'm guessing with the fans of that style of music buying the release (I'm guessing it's more the older generation...who else would still buy cassettes?) and with the push that the her H!P fans will give her, she should be able to brush him aside with ease...perhaps that was the general idea? A triumphant return not only for Mikitty but for a style of music that generally doesn't sell too well for H!P, perhaps this could in turn generate more interest in the releases from
Yuki
?
Last but far from least is C-ute whom I have no doubt will chart within the top 5...I'd go so far as to say that this will certainly appear in the top 3. C-ute as a whole is an amazing unit and is constantly going from strength to strength, there's no way that they could do badly.
It's certainly going to be interesting looking at the Oricon Charts in a couple of weeks times, fingers crossed we should be seeing three H!P releases sitting comfortably in the Top 10. I can't help but feel that this has been so carefully planned by UFA to get themselves some great publicity, as unlike releasing three random singles against each other, we have one amazing release which is guaranteed to do well and then two singles which will surely sell well just by their very nature. It looks like UFA are really going out this year to try and ensure that the only publicity for H!P is good publicity, with the potential for having three releases charting high in the same week you can't really get any better than that, who knows perhaps
Morning Musume
could hold in for longer than their usual one week within the Top 10 in the chart and make it 4? Then with more and more of the
H!P Egg
members appearing in units and the recent formation of
SI☆NA
there's so much potential for a really great year for H!P as a whole.
TAGS [
C-ute
Mikitty
V-u-den
]
Posted Thursday, 17th April 2008 17:13 | 4360 Reads | 0 Tweet Count |
Leave a Comment
Sunday, 13th April 2008 20:02 |
13 Comments
I'm not to sure how long this has been up on
Ohta's eBay Store
, I get a feeling I may have overlooked it, but he now (and possibly for some time?) has merchandise from
2008 H!P Shinjin Kouen ~Kirameki no Yokohama~
. Although I'm not to sure whether I'll be getting anything from this set of merchandise, the
Manoeri
photos are looking quite tempting.
With the formation of
Milky Way
more and more of the
H!P Egg
are becoming recognisable, if I think back before the formation of
Ongaku Gatas
I was unaware of any of the girls and always thought to them as the ones that get in the way at the concerts. Now things have changed, I not only the names for quite a few of them I'm a fan of the ones I know, where as before I would try to ignore them in the concerts I now try and spot my favourites, their opening at the
Haro Pro Award '08
concert was simply amazing everything about it from the vocal performances to the dance routine was just spot on!
TAGS [
H!P Eggs
Ohta
]
Posted Sunday, 13th April 2008 20:02 | 3693 Reads | 0 Tweet Count |
Leave a Comment
Saturday, 12th April 2008 13:45 |
30 Comments
This time last week I got my copies of
Sayumi
's,
Momo
's and
Risako
's most recent PB releases. This post is going to focus on Momo and Risako's books, I should get around to Sayu's PB tomorrow or Monday.
Recently over on MorningBerryz blog there was a poll to see who was the favourite out of the two based on their most recent PB releases (
嗣永桃子 VS. 菅谷梨沙子 写真集バトル!!
), seeing this really made me happy, mainly because it goes to show that others are in the same boat as me, deciding between Momo and Risako.
For me it's been made even more awkward because how fast and quick Momo has risen to the top. When I originally got into
H!P
Berryz Koubou
wasn't one of my favourite groups, there was a handful songs that I liked but generally in live performances I skipped past them, the members within the group itself didn't really interest me or excite me like those within
Morning Musume
, the looks of the unit was one that didn't appeal to me, over time the girls have grown into their own and each are looking beautiful in their own way, but when I first heard of Berryz a few years ago they were an odd looking bunch of girls, undeniably cute, but odd looking. I remember seeing promotional shots of the units and just thinking to myself "Why doesn't someone teach these girls to smile in a less freaky way?", at the top of the list of oddness was Momo and their she stayed.
Munasawagi Scarlet
was a turning point for me as it was the start of me seeing something in the unit that I hadn't seen before, everything about this release was amazing, the song, the PV and the girls. Risako was the member that stood out the most to me and from their my love for her grew. Momo on the other hand remained in the same position, her look and voice was something that put me off of her. But then came along
Buono!
and I watched in amazement and wondered how I could have ever though what this, Momo's voice, look and personality all fall into one category quirky. Ever since Buono! she's risen to be my favourite Berryz member, but she's risen so high and so quickly that it made me question as to whether Risako was in fact still my favourite member, for a long while I've been undecided but with the help of their latest PB releases I decided to finally decide, now it's time to see who comes out victorious Momo vs Risako...FIGHT!
Hahaha, can you guess I had a quiet morning? Both of these releases are softback, which seem to be the norm when it comes to H!P Kids releases, well at least with the ones that I own, the covers for both are great, but I have a clear favourite out of the two. Risako's
Ring3 ~Rin Rin Rin!~
cover features a large shot of her face, Momo's
momo16 -Momoiro-
on the other hand has much more character and personality, the white border around the photo of Momo really helps emphasise the photo and what a photo it is, it's very simple but offers a lot more than Risako's I think, it's quite literally screamin out Momo!!!
Flicking through the books one thing really stands out in all of the photos and oddly that's how much Momo looks younger than Risako. Risako, in my eyes has always been the most attractive member within Berryz, her looks, much like Koha, always seem to suggest that she is in fact older than she is. Every time I see a photo of her I look it and think to myself if she looks this good now how will she look in another 2 years, another 4 years? I know looks aren't the underlying factor when it comes to choosing favourites but there's no denying that they play a part. If I knew the ages of each but didn't who which was which, I'd look at the PBs and go Risako's 16 Momo's 14, there's also something about Momo's personality and just general nature that seems to give off a younger image. Take for example how she runs, stomping and arms waving it's 100% cute but not really what you would associate with someone her age.
Now although Momo may run in an extremely odd way I think her looks really do suit a sporty image, although I don't own her first PB I seem to remember seeing some scans of her playing hockey or something similar and thinking to myself "that really suits her". Risako on the other hand doesn't really suit the sporty look I just find that although these photos have the usual good look she doesn't seem to fit in properly, maybe it's just me?
When it comes to Momo's book one section that I was almost certain that she would look out of place was the bikini shots, her body just didn't look like it could pull of bikini shots. Risako however I had no doubt would be looking great in these shots. To my surprise Momo's shots in these sections were amazing and completely not what I was expecting, the shots of her in the yellow bikini were simply amazing and I'd have to say were up their within my favourites in the book. Risako looked amazing as per usual.
The two photos above are my favourites within each PB. Momo's 'hotdog' section was my favourite within her book. The brightness of her clothes, the sauce on her hot dog and her surroundings really work with her looks and the whole series of photos reflect her quirky, cute and adorable personality and nature. Risako's was a harder choice for me as there were a lot of shots within the book that I thought were equally as good as each other, the final two came down to the shot of her with 'Uncle Sam' and the shot above. In the end I decided on this one as I love her dress and facial expression.
Ultimately my favourite out of the two books has to go to Risako's Ring3 ~Rin Rin Rin!~, her continual high standard throughout is what really impressed me, that and the fact that I think I still have a little bit of favouritism towards her. Momo's momo16 -Momoiro- is an amazing book and it's got me liking her as an idol even more, with each release Momo is winning me over more and more and although Risako is currently my favourite out of the two, I get the feeling that this could shift at towards Momo in the future, we'll just have to wait and see.
TAGS [
Momo
PB
Risako
]
Posted Saturday, 12th April 2008 13:45 | 6420 Reads | 0 Tweet Count |
Leave a Comment
Saturday, 12th April 2008 02:59 |
37 Comments
It seems like ages since I posted about H!P merchandise that I've purchased, it's not through lack of buying but just finding the time to post about it, recently it always seems that when ever I plan on sitting down and typing something up a new PV is up or I end fast asleep on top of my laptop. Starting tonight and running over the weekend I want to try and at least get one post up a day, possible two, in attempt to try and catch up.
First up is the delivery of some items from
Ohta
(
Ohta's H!P Store
,
Ohta's eBay Store
), consisting of a
Morning Musume Single Daizensyu Spring 2008 Concert t shirt
,
C-ute
's
Koero! RAKUTEN Eagles
single and some C-ute photos (which I'll leave for the minute as I have a ton of photos that I want to post about).
With the shirts recently I've been primarily going for member ones, a mix of pride of owning your favourite members shirt and declaring too the world "I love Koha!" (in most cases) and the added bonus of the additional 2 photos that normally accompany these is the reasoning behind these purchases, but with this purchase although I was extremely tempted with the member shirts it was the actual concert tee that really caught my eye. Originally when I started collecting Ohta always had a very limited supply and it generally involved me getting up stupidly early in the morning to make sure I'd be in with a chance of winning the auction, the majority of the time they were concert tees like this, so after such a long while of not seeing any concert specific shirts that I've liked (far too much metallic writing on them for my taste lately) this one was an automatic buy, the back print is really what got me hooked on it, the orange flame on top of the bold 'mm' really draws in the attention. I do however feel bad for not getting a members shirt, specifically
Sayumi
's, every time I buy one I say to myself "Next time I'll get Sayu's" and then the next time comes along and I never do...next time Sayu I promise! The main reason for passing is because of the colour, although I'm getting more and more used to wearing glaringly bright colours (I love wearing my bright yellow
Aichan
shirt) I'm still having a lack of confidence when it comes to wearing a bright pink. I wonder if the member shirts will ever appear in multiple colours? Probably not as it makes it harder to see who the favourite is among the sea of fans at the concerts, but I can hope.
I really love this release, the song is really catchy and now that I finally have it on CD I can't wait to get it over on my iPod, my feet will be tapping all the way into work. Much like last years release for
Rakuten Eagles
by
GAM
this is very much a no frills release, the CD itself contains Koero! RAKUTEN Eagles and the Instrumental and that's it, the cover of the inlay is the only photo of C-ute, inside we have the lyrics and a couple of cartoon images of eagles. As with the GAM's release last year, the PV is great and can be proven by simple mathematics;
(Erika+Nakki)*Short Shorts = :)
If you haven't seen the PV for this release yet, it can be found
here
.
:::Dohhh Up!:::
recently put a clip to help the promote the release, it's similar to a clip they put up to help promote
Namida no Iro
but this time it's even more cuter,
Hagitty
has to be the cutest member within H!P by far just wait till the end of the clip and see her look nervously to the side of the camera before returning with Chisato for even more cuteness.
Whilst I'm talking about Ohta, I recently emailed him about some shirts I saw on some clips uploaded on
:::Dohhh Up!:::
. The clips are of Berryz wearing some shirts which I'm guessing have "ugh...ha" printed on the fronts and backs of them from the song
Dschinghis Khan
, the shirts look really cool and different to the usual style, mainly because it's not glaringly obvious that they are in fact H!P related, although I think they have the Berryz logo on the arm. As yet they aren't available to order but I can't wait until they are, I'm really liking them.
TAGS [
Berryz
C-ute
CD
Ohta
]
Posted Saturday, 12th April 2008 02:59 | 6301 Reads | 0 Tweet Count |
Leave a Comment
Thursday, 10th April 2008 14:17 |
19 Comments
Just a quick message about the embedded videos on the site, at the moment
Veoh
seem to be having some problems and not all the videos embedded are displaying correctly, fingers crossed this will be fixed soon, apologises if you pop over and there's some unexpected anime series attached to the post instead of the PV or other clip you thought you was going to be there, lol, I'm not intentionally trying to confuse everyone. Now onto
Mikitty
's new release, fingers crossed I'll be able to embed the correct videos in.
Where as last year seemed to be the year for losing H!P members, this year seems too be the complete opposite, we're not only seeing the return of older members but the introduction of other members into new units..] We've had the return of both
Gocchin
and
Aibon
, even though neither are in association with
UFA
for the fans it doesn't really matter, to see other favourite idols back in the public eye is great news. Even
Nono
has even be making in appearance in the odd article (
~?Out and About?~
on Strawberries blog), there was even mention over on HNPH Blogzine (although it's unconfirmed) that she's planning her come back as well (
Kago Ai is Back! - Comeback Interview, Fan Club and Blog
). With the introduction of both
Kikka
and
Saaya
into
Milky Way
,
Manoeri
's solo career and the inclusion of
Hello! Pro Kansai
in the new unit
Hello! Style
it's certainly been exciting start to the year. And with Mikitty's new single being released in a couple of weeks it feel like are getting back to normal, we might even see the return of
GAM
in the near future?
Okitegami
is still a curious for her return I think, it's not really the sytle that I place with Mikitty. It's also got me thinking as to whether this is a new career path for her and perhaps we may have seen the last of GAM, with this single being released on the
Rice Music
label I wonder if her singing is going to take on a more serious and less JPop style? My fingers are tightly crossed that she sells more than Yuki's (who is also on the same label) recent single releases.
Oddly there will be two versions of this single (both PVs can be found below), the other version will be sung by
Horiuchi Takao
. I've had a quick look online to see if I could find any more information about this artist, but all I can find is his past catalogue of releases and no information about him personally. I was really hoping to find some information on his ranking and sales figures of his past singles as there's obviously going to be a battle between them with the sales figures I'm just curious as to how popular Takao is, he must be quite popular as his back catalogue is large and he's also done songs for the TV programmes etc.
Both versions of the song are nice calming songs, I've yet to decide which version I prefer as at the moment I'm in work and haven't had a chance to have a proper listen to them, currently I've only watched very tinny sounding versions of each on my phone. Obvious favouritism has me edging towards Mikitty's version. However when it comes to the PV it's Takao's version that I'm most impressed with, his version not only features both him and Mikitty but has a story running throughout, including shots in different locations. Whilst on the other hand Mikitty's version is very plain and like the majority of H!P's PVs features no story line, it's a great video if you want to sit back and watch Mikitty and after all it has been awhile, it's a perfect excuse to catch up.


CD Release Date : 23 - 4 - 2008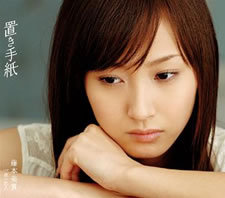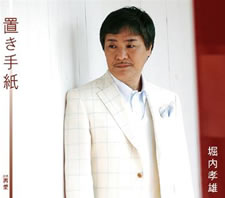 Fujimoto Miki - Okitegami
Amazon
|
CDJapan
|
HMV
|
YesAsia
Horiuchi Takao - Okitegami
Amazon
|
CDJapan
|
YesAsia
TAGS [
Mikitty
PV
]
Posted Thursday, 10th April 2008 14:17 | 4203 Reads | 0 Tweet Count |
Leave a Comment
Monday, 7th April 2008 15:40 |
45 Comments
My last post concerning
Aibon
was if anything a little bit down beat, not wanting to get my hopes up too soon, but it looks like I was wrong and I should have been partying loudly right from the start! First off there's the news article over at
Nikkan Sports
stating that she's planning on coming back to showbiz, this in itself is great news, but I recently got an email from
Shohei
pointing me in the direction on Aibon's blog,
Biscuit Club
.
This finally sets it in mind that Aibon is back and she's not going anywhere, with an official blog up in place it just eases my mind and makes me feel a whole lot better.
The blog at the moment isn't showing too much information, there's a photo gallery with some images in it, but unfortunately I think you not only have to pay to access it and secondly need a Yahoo!Japan ID to logon, I may over the next few days attempt to sign up for an account although I don't know if I'll be able to. The reason why the blog is a little empty at the moment is because she won't start blogging until the 10th of this month, so it's one to bookmark and check back later. The really good thing about this, is being a foreign fan the likely hood of being able to keep track of her appearances on TV and the like are extremely slim, now at least I can at least check her blog when I need my Aibon hit.
I have to admit to being a little disappointed that she won't continue her singing career, although I guess there's still the possibility that she could, but just the fact that she's back and active even if it's not within
H!P
is a great thing, I hope she really makes a go of and is back for good, she certainly has my full support as a fan whatever she does.
TAGS [
Aibon
]
Posted Monday, 7th April 2008 15:40 | 7550 Reads | 0 Tweet Count |
Leave a Comment
Monday, 7th April 2008 01:32 |
27 Comments
Life is never easy when your a
H!P
fan, just staying up to date with the latest releases can be a mission in itself, but then you have to factor in other things outside of the usual, things that UFA can't control for what ever reason. Today is one of them days, the snow cleared up a little after lunch, yes it's been snowing here, I put the clocks forward last week for Summer and then this weekend it snows :S I had planned a fairly relaxing day, popping to the gym and then over to Kat's with a plan of returning tonight and typing up a post about
Risako
's and
Momo
's PB releases which arrived a couple of days ago...that however for obvious reasons has been put on hold for the minute, news that an interview with
Aibon
has been put online is reason enough to put a hold to practically any post! So without further waffle, the first part of Aibon's interview from
OhmyNews.
.
As yet I haven't read the translation but at this very second in time the translation can wait, the interview is in 6 parts spread over the week, I can't imagine there's anything that newsworthy in the first part (well aside from the fact that Aibon is giving an interview), what would that leave for the rest? This has to be just a little morsel to whet our appetite. So before I go over to read the translations at
Hello-Online
I'm going to watch the video, get all my excited and aimless comments out of the way then read the translation and hopefully have a more levelled head to comment.
OK, I'm only 10 seconds in and I have to pause the video to comment, Aibon now in her 20s looks a lot different to that of the last time I saw her in the
Friday
interview before her contract was terminated (
Aibon Set to Return
), but by different I don't mean "Whoah, whose that" different, more of just "Wow, she's grown up" different, a shorter haircut and by the looks of it the loss of some weight, she's looking very grown up and fresh faced, back to the clip....
So I've watched the clip and popped over to Hello!Online to check the translation and from this first clip sheds some light onto the reasoning's behind the mishaps that happened. Although it doesn't go into great detail about the smoking scandal, comments are made about the second scandal and to be honest it sounds all totally reasonable and no where as seedy as we were originally led to believe. I think the most interesting and exciting part of the text is the bit that reads "There's no excuse for what I did. I'm going to start anew, upholding my duties properly. I want to live strongly. I would be be happy to have your support." I don't want to jump the gun on anything but isn't this suggesting that she wants to come back into the industry. As to whether or not she'll return to H!P or not is a different story altogether, but then I imagine it's totally out of the question, looking back over the past year the only thing she done wrong with the last incident that got her fired was not to get pregnant, in comparison to
Nono
at least she's showing some sense when messing around.
I guess at this moment in time there isn't much to really say, it's obviously an exciting getting our first glimpses of Aibon after such a while, but until I see the full 6 parts to this interview I'm going to try and restrain myself from getting to excited, as to whether I can or not is another story I guess we'll see what happens when the next part of the interview comes out...although inside, my brain is going "WHOOP!! WHOOP!!" ;p
TAGS [
Aibon
]
Posted Monday, 7th April 2008 01:32 | 3472 Reads | 0 Tweet Count |
Leave a Comment
Sunday, 6th April 2008 15:51 |
27 Comments
Having seen the covers for this release awhile ago I've been eagerly awaiting the PV for
Namida no Iro
. The outfits are a step back into the more mature look of
Tokaikko Junjou
and for me I'm finding it tougher and tougher to decide whether I prefer
C-ute
having this mature look or the cute look found in the rest of their PVs, but one thing I'm sure of is that with every new release C-ute are raising the bar not only with their looks but with the songs sung and their performance in their PVs. Currently for me C-ute has to be the unit I'm most excited about, unlike any other unit I find each of their releases to be an improvement on the last and not just in steps but by leaps and bounds.
There's the usual downfalls with this release, well if you can really call it a downfall as it doesn't stop me from loving this release, and that's the lack of lines for anyone whose name isn't
Maimi
or
Airi
, but this has pretty much become a standard with the single releases that it's almost a given and to be honest, expected. I look forward to the day when we start to see other members of the unit taking on larger roles in these releases, but although it can be a pain for us fans of other members it doesn't stop the unit as a whole standing out with each release. Slightly off topic but I though that crossed my mind when watching this PV for some strange reason is to how
Erika
will function within the unit in the long run, having passed up the opportunity to lead the group, will she be given a second chance if Maimi was to graduated, or does passing on it once mean that she'll remain oldest but never the leader of the unit?
Nakki
's outfit, for me it's by far my faourite out of all them, she not only looks great in tight jeans, but she can pull off wearing a bobble hat so much better than anyone I've ever seen, she not only looks good in it, she looks cool in it! Much like within Berryz between Risako and Momo, I'm finding Nakki is really fighting her way to my favourite within the group lately and I'm finding it extremely hard to choose between her and
Erika
as my favourite member within the unit. Erika, who far the most resides in her usual position of at the back and on the right faces the usual problems of not featuring enough in the PV as the minute the camera moves she seems always to be cut out, but luckily we're given some gracious solo shots of her looking at her usual best and we're even treated to an amazing shot of her laying down :) Much like Nakki I'm impressed with her hat wearing abilities, lol, I just find that hats are normally very hit and miss, some people just shouldn't wear hats at all but if you can, which Nakki and Erika obviously can, it should be exploited to it's full potential, more hat wearing please!
Chisa
is an unexpected surprise in this PV for me, her appearance here I find to be very noticeably different to that of how she looks usually, it's the hair that really does it for me more than anything and much like
Chinami
I feel that she could do with a makeover in the hair department on a permanent basis. Now although here the length is still short, the style combined with the outfit really help to give her a look that I haven't seen before, it's still a slightly tomboyish image, but when compared to her image in Tokaikko Junjou it's a lot more girlie.
Kanna
although looking good never really catches my attention enough, something that I find happens in the majority of the C-ute PVs, I think out of every member within the unit, she's the one I'd most like to get some more lines and feature more within the PVs if only so that I start paying her the attention she deserves.
Haggity
seems to look considerably older with each PV release lately and this is no exception, but although her image appears older some of the solo shots of her and the expressions within these shots reflect her age more.
Airi, actually looks quite attractive in this PV, which I think is a first for a C-ute PV as normally she just looks far too skinny, her image reminds me more of the image she has in
Buono!
which has to be a good thing and although she still looks on the skinny side the white coat give her some bulk which I think really adds to her look. Maimi, looks as good as she usually does, who can really knock an outfit that involves Maimi and short shorts? When it's come to the dance although everyone does a great job, I think it's Maimi that really does show how it should be done, especially with the clapping and spinning parts.
Both the song and the PV are upbeat and lively, and it may just be me but I'm getting a slight Spanish feel going on with both, certainly the opening with the Spanish sounding guitar followed by the loud clapping and stomping, the dance routine also has a kind of flamenco type approach to it, with lot's of clapping, stomping and spinning. The song itself reminds a lot of another
H!P
song that I just can't remember the name of but have listened over the last couple of days, either on my iPod or on a recent concert DVD, I'll try to take some time out this evening and go over what I've watched/listened too recently to see if I can find what it reminds me of.
With the PV below I've also included a promotional clip found on
:::Dohhh Up!:::
awhile ago, if ever there was anyone that could persuade you to but this release it has to be Hagitty and Chisa being unbelievably cute whispering into the camera!


CD Release Date : 23 - 04 - 2008 DVD Release Date : 14 - 05 - 2008


C-ute - Namida no Iro (Regular CD)
Amazon
|
CDJapan
|
HMV
|
YesAsia
C-ute - Namida no Iro (Limited Edition CD + DVD)
Amazon
|
CDjapan
|
HMV
|
YesAsia
C-ute - Namida no Iro (DVD)
Amazon
|
CDJapan
|
HMV
|
YesAsia
TAGS [
C-ute
PV
]
Posted Sunday, 6th April 2008 15:51 | 4488 Reads | 0 Tweet Count |
Leave a Comment
Wednesday, 2nd April 2008 12:25 |
56 Comments
[Updated 17:02 PM on Thursday, April 3rd 2008]
-
Jump to Update
Although I haven't mention the formation of
Koha
's new unit on the blog, well I have but only in passing, I've been secretly getting all excited about this unit and this release. Admittedly I was a little disappointed when I originally heard about the unit, not in a bad way, just that I had my fingers crossed that
Hagitty
would be back for another
Kira☆Pika
release.
Milky Way
features another two
Eggs
,
Kikka
and
Saaya
, and when combined with Koharu, the trio make an outstanding looking trio. Even before I watched this PV I had seen a couple of photos of the girls in their outfits and I was quite literally blown away at how amazing they all looked and with both of the Eggs each had feature about them in these stills that just had me wanting more. Kikka, has an amazing smile, she also looks similar to someone but I just can't seem to put my finger on it. Saaya just looks gorgeous, but the thing that really had me going wow was her stomach. Lol, odd I know but in one of the stills it looked really toned. So from a looks perspective and nothing else this unit has everything going for it.
The costumes worn are the usual style Kirain Revolution outfits, cutesy in colour and style. I can't help but reminded of her previous PVs when seeing these costumes, it's as if they went through the PVs and decided to rework the outfits worn. Saaya's blue and yellow outfit looks like a reworking of Koha's dress in her first single,
Koi Kanna
, I think this outfit has to by favourite out of all three, the only way this could have been better is if Koha was wearing it, but Saaya looks just as good as I imagine Koha would in it, to be honest I think it suits the shape of her body more. Next is Kikka in a reworking of what looks like the dress worn in
Balalaika
, a highly improved and a lot less ugly version of the dress. If any of the outfits needed a makeover it's certainly this one, sure it went with the whole orange dull feel of the PV, but much like the PV it wasn't that attractive. The shoes and socks have been replaced with possibly the most amazing pair of boots in the world, oddly I'm really excited about them; knee high, gold and with bows on...is this how girls feel when they go shoe shopping?! The outfit is a lot brighter and I think this is something that really helps improve it, perhaps if it was a bit more brighter in Balalaika I may have liked it more. Koha's costume reminds a lot of the one worn in her third single
Happy☆彡
, there's the obvious difference with this costume in that it's a pink frilly skirt rather than pink shorts, but it's more the white and pink fluffy stripes on the skirt that reminds me of the outfit, although she looks great in it I still don't think it's a Koi Kanna beater.
As impressive as the outfits are, the song and PV really stand out without these visual treats. Both the song and the dance have a certain Irish feel to them, I can't help but think Riverdance. The dancing might not be up to the standard of Micheal Flatley, but I don't think he's ever thought of doing anything so damn cute! Although Koha has the most lines, I can't help but think that this release will attract a lot of people who aren't her fans to like her more. Both of the two Eggs get quite a lot of screen time and although neither of them shine brighter than Koha they're not far off, especially Saaya. All in all an amazing release and fingers crossed this won't be another one of unit like Kira☆Pika, but I guess that has more to do with the storyline of the anime more than anything else.
I can't help but feel sorry for the parents of any kids that are into this, no doubt these tambourines and headsets that feature rather heavily throughout will be the essential Kirarin Revolution accessories. As they try to copy Koha's crazy tambourine bashing :) I'm just as bad as any kid (probably worse) when it comes to H!P endorsed products, I really will buy almost anything that they'd try to sell me, talking of which I'll be keeping my eye out for any photos of the unit, in fact I'm off to check out the H!P Shop now.


CD Release Date : 30 - 04 - 2008 DVD Release Date : 08 - 05 - 2008


[Update]
I've just seen the covers for this release and although all three look great they do look very similar. As with all of Koha's Kiran Revolution releases my choice of which version of the CD to get is based solely on the covers, when I originally made the update I had my covers confused, lol, luckily I haven't put my order yet. It turns out the what I thought was the regular cover is in fact the limited cover, thanks Hgfeoy, I would have got a surprise when it got delivered! I'm still not entierly sure what the bonus card is within the limited release as although it appears to be card, I'm not sure as to whether it's the usual type of card that comes with these releases or not.
Also as ddrchik mentions in the comments to this post the tambourine and headset can be ordered from Amazon, clicking on the images below will take you to the products on Amazon.
Milky Way - Anataboshi (Regular CD)
Amazon
|
CDJapan
|
HMV
|
YesAsia
Milky Way - Anataboshi (Limited CD + Milfy Card)
Amazon
|
CDJapan
|
HMV
|
YesAsia
Milky Way - Anataboshi (DVD)
Amazon
|
CDJapan
|
HMV
|
YesAsia
TAGS [
KiraPika
Koharu
Milky Way
]
Posted Wednesday, 2nd April 2008 12:25 | 7258 Reads | 0 Tweet Count |
Leave a Comment